Set in the beautiful countryside of the Dordogne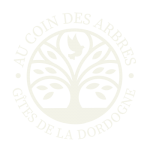 Beautifully restored Dordogne farmhouse and barn conversions set in the tranquil countryside of the Dordogne just 40 minutes from Bergerac Airport. Retaining many of the original features including oak beams and stone walls, the four self-catering gites have been developed to a high standard with a complete furniture refresh in 2021.
Set in a 4-acre estate of meadows and woodland with walks and cycle paths from the door, Au Coin Des Arbres is ideally located for anyone who loves the outdoor life. Abundant nature, dark night skies for stargazers and the Dordogne climate make this an ideal place to relax and recharge.
The gites are arranged around a private courtyard each with their own outdoor space for eating and relaxing. There is also a covered dining area with a built-in barbecue overlooking the fishpond. The 13mx7m infinity pool (May to September) overlooks the meadows and is surrounded by a landscaped pool deck with solar shower, sun loungers and a shaded seating area with dining space.
A 2km walk through the woods takes you to the local village of Biron with its imposing castle, great views, épicerie and bistro.
Being only 30 minutes from both the Dordogne and Lot valleys there are many tourist activities within a short distance. There are many ancient Bastide towns and castles in every direction and five of the "plus beaux villages" in France on our doorstep. Local markets, vineyards and the renowned gastronomy of the region offers a special taste for everyone whether you choose to cater for yourself or dine out. We live on-site and can offer advice, assistance and local information if required.
We are so blessed to live in this beautiful spot and we look forward to sharing it with you.
The best price for booking will always be directly from our website.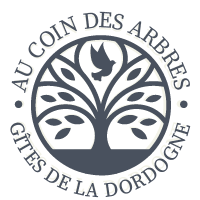 We have miles of varied walking off-road cycling from the doorstep but perhaps you just want to spend a few days with a good book and a cold drink by the 13-metre pool

Visit the tourist attractions of the region including the medieval city of Sarlat, the ancient bastide towns such as Monpazier, the many castles including Biron, Castelnaud and Beynac, canoeing along the Dordogne, the Vézère and Lot rivers, or just enjoying the stunning nature and local gastronomy.
What an amazing job you've done to make the gites so stylish and comfortable. It was great to explore parts of the Dordogne we have not previously visited
Thank you Tony and Lisa for having us in one of your sweet gites. We had a completely restful sleep in Palmier. It was great to get to know you and we will be thinking about the peace, the blue skies and the gorgeous pool once back in England
Thank you so much for a wonderful week in France. We have loved every moment. Beautiful location and gite and friendly company.
Thank you Tony and Lisa for being amazing hosts and sharing this amazing place with us.
A beautiful gite and location. Tony and Lisa were fantastic hosts and we have loved spending time with you.
Nous avons passé 2 semaines formidable! Nous sommes ravis d'avoir retrouvé Lisa et Tony partagé de bons moments. Tout était parfait comme l'année dernière.
Tout est parfait - le gite, l'accueil, le calme du domaine.
We've stayed in many gites since 1971 and this must be the best one yet! So comfortable, clean and with everything you might need. Brilliant location in the heart of Bastide country.
What a wonderful week we've had. Fabulous gites with an amazing pool, shaded dining area, games and fun. Truly memorable. Thank you Tony and Lisa for making us so welcome.
We have had the most wonderful time; swimming, running, a walk to the vineyard and lots of lovely suppers in and out. We were all made to feel very welcome and feel very relaxed
Nous avons passé une semaine formidable. Le gite est très confortable et bien équipé. La domaine est calme et reposant, et le paysage magnifique. Les propriétaires sont très gentils et à l'écoute. Nous y reviendrons.
The perfect place to relax after a busy time for us. Thank you for your kindness and making it possible to extend our stay

We are located in the beautiful south west of France in the Dordogne and close to the border of the Lot-et-Garonne.
The gites are accessed along a no-through road with very little passing traffic and we are surrounded by fields and woods bursting with nature.
Benefitting from the climate which provide a hot, dry summer and a gentle spring and autumn we are ideally placed for your holiday.
We sit in the middle of three of  « Les Plus Belles Villes de France » with Monpazier, Villeréal and Monflanquin a short drive away offering history, culture and local gastronomy. 
The Dordogne valley has much to offer from castles, gardens and medieval towns like Sarlat and Domme.
There is so much to do here that one week just is not enough!

Each gite has its own outdoor space along with a communal covered eating area with barbeque. Our private meadow beyond the pool runs down to a stream for those who want to let off steam or do some nature watching. The dark night skies are a treat for star-gazers too.
Why not check out our four rental gites, the reviews and availability. Find out more about our journey here by reading our blog and don't forget to join the mailing list for the best deals and offers. The best price for booking will always be from our website.

If there is anything we can do please feel free to get in touch.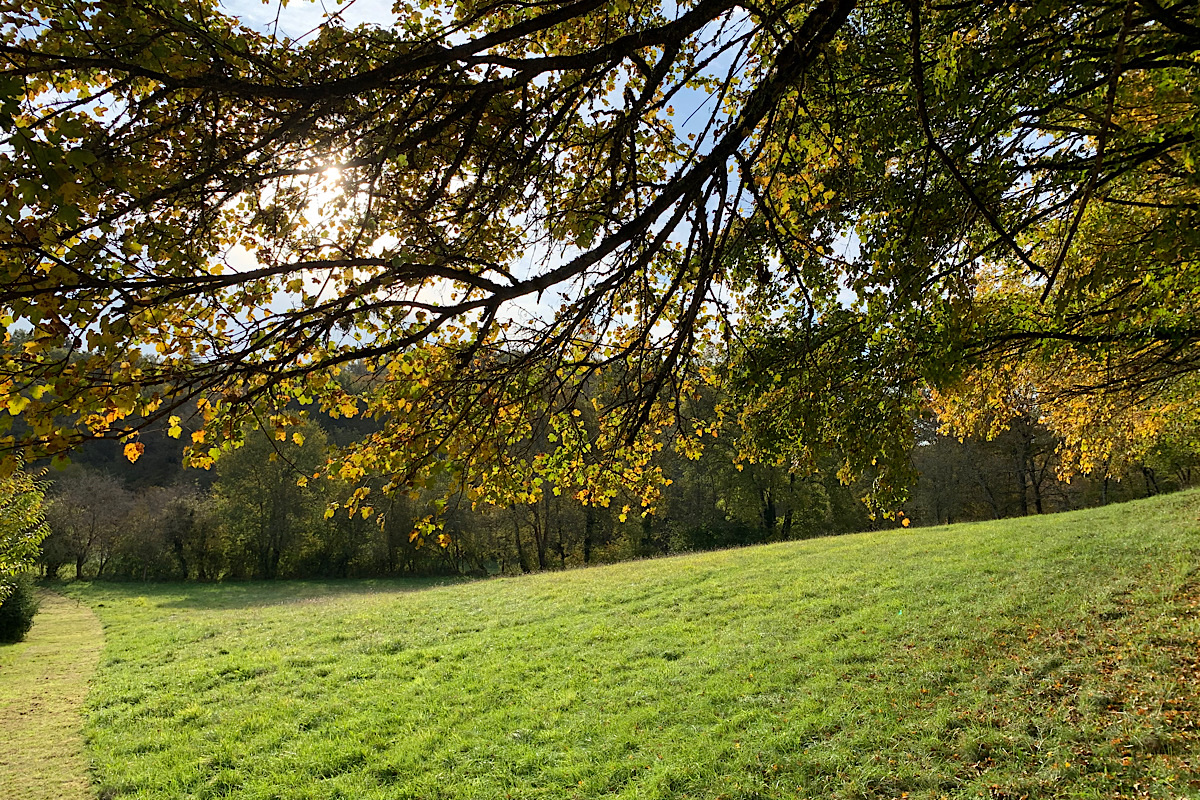 Wood smoke is rising from the houses and mingling with the mist to give the Dordogne a bucolic feeling around dusk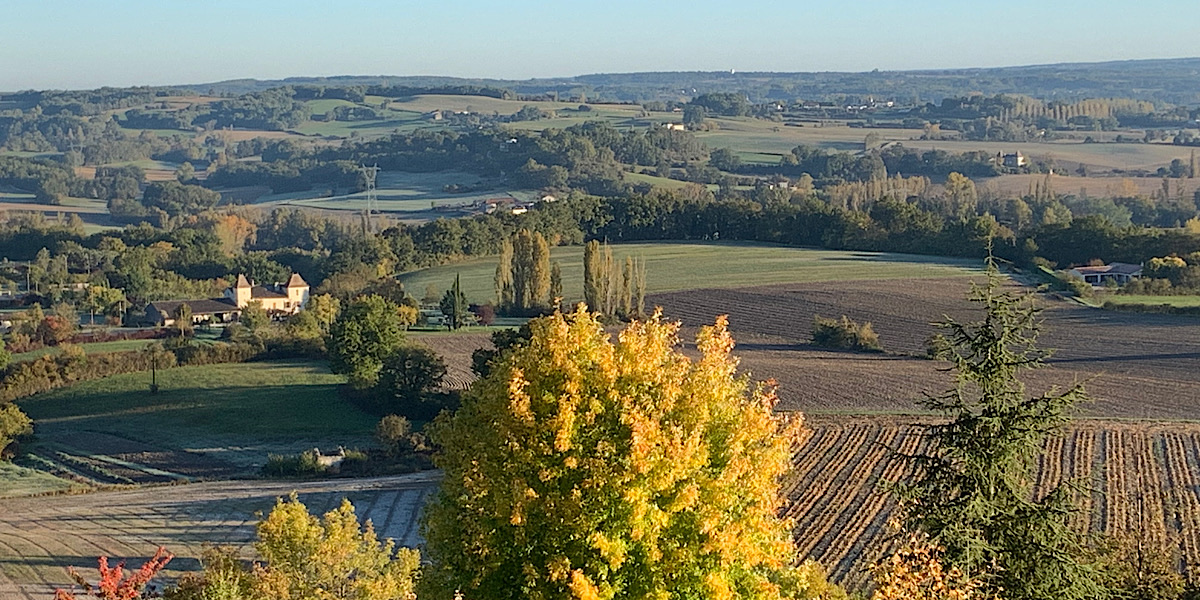 As autumn presses the first frosts arrive at Au Coin Des Arbres but the days stay sunny and warm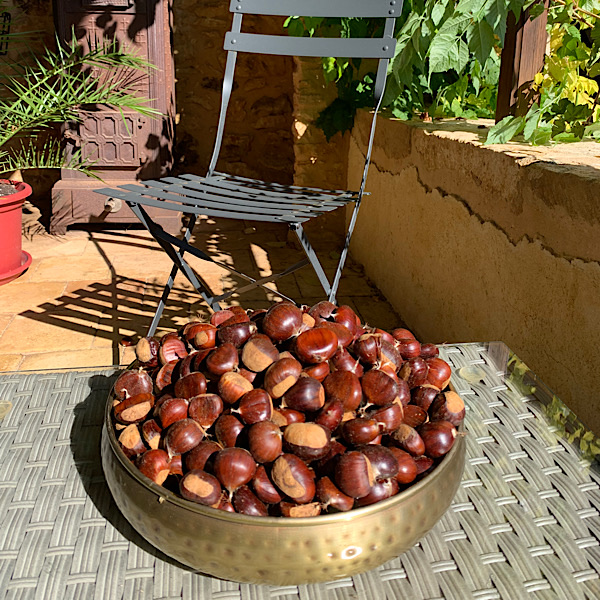 There are rich pickings in our woods if you take the time to stop and look